Main Content:
Big and Tall Mens Clothing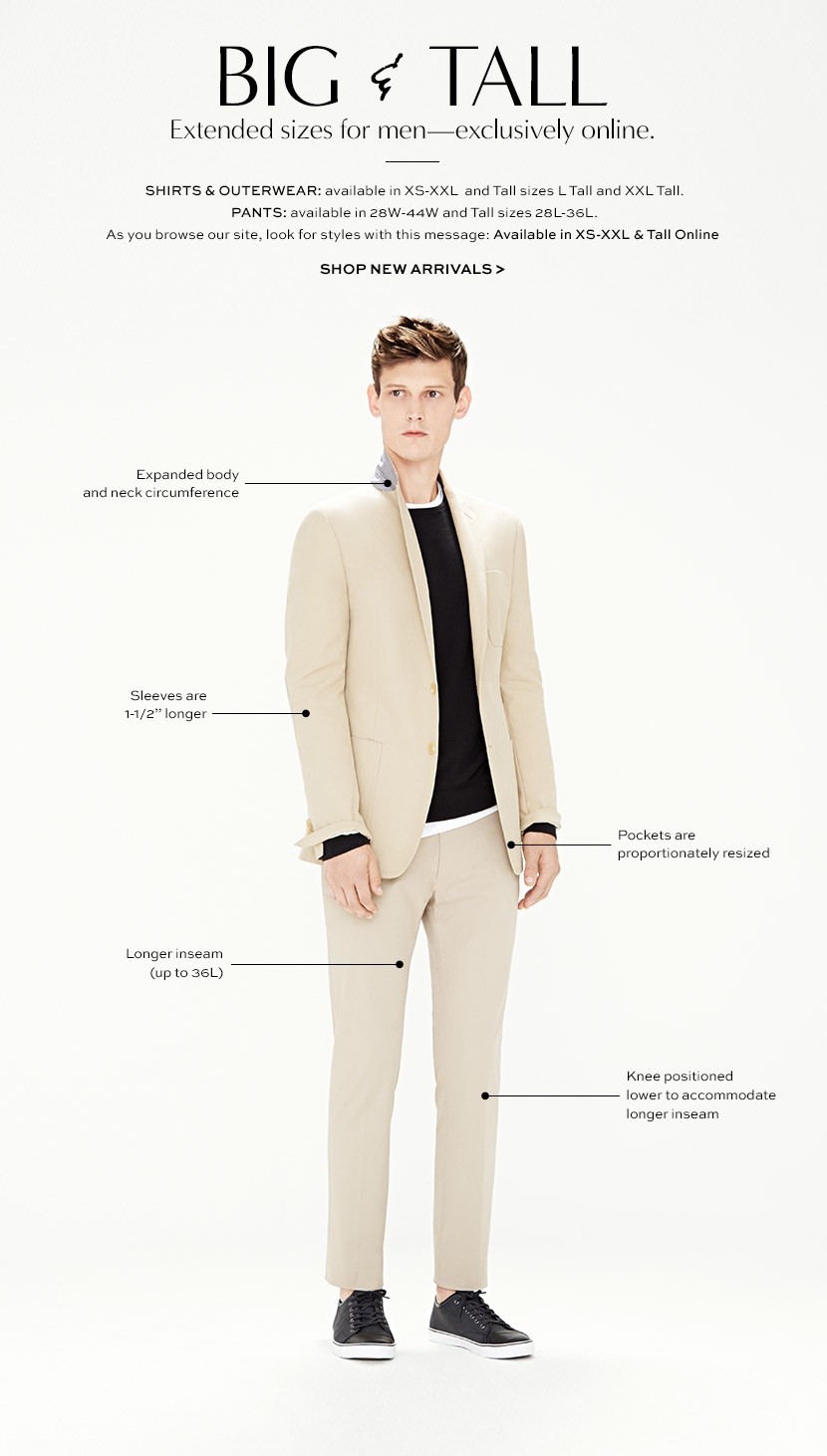 Find Big & Tall Men's Clothes at Banana Republic Online
Experience a great fit with fashionable designs from the big and tall mens clothing collection at Banana Republic.
About Big and Tall Mens Clothing
Fashion for extended sizes has come a long way in the last few decades. For many years, men with unique builds had to have their clothing tailored to fit their size. Or they would have to settle for generic clothing designs with little definition or style. Today clothing manufacturers understand that all men are not created equal and the market for fashionable menswear doesn't begin and end with a size medium. Just take a glance at the Banana Republic big and tall clothing line and see for yourself.
Big and Tall Mens Clothing Banana Republic Collection
The stylish, durable designs of our big and tall clothes will ensure a great look for any occasion. Put together the perfect formal statement with handsome suit separates in stylish patterns and color palettes. Choose from a wide variety casual shirts and dress shirts in popular plaids, stripes and vivid solids. Create the ideal casual statement with an assortment of trouser designs; find big and tall chinos, khakis, cuffed pants and more.
Big and Tall Mens Clothing Features
Our mens big and tall clothing collection emphasizes quality materials and superior tailoring. Discover comfortable shirts crafted from 100% cotton or stretch cotton blends for exceptional durability and wear. Find a wide assortment of big and tall outerwear designs in a variety of rich fabrics; leather jackets, knit blazers, denim jackets, lambswool cardigans and more.
Banana Republic Big and Tall Mens Clothing Style Tips
Create a unique style all your own with your favorite pair of big and tall trousers, a long sleeve button-up and a sporty pullover. With so many colors and designs the combinations are limitless. Try incorporating a few dynamic patterns into your dress style for eye-catching accents; a pair of big and tall camo pants with a solid color tee exhibits some flair and a sense of humor.
Ensure a tailored look and fit with the handsome designs of big and tall mens clothing from Banana Republic.